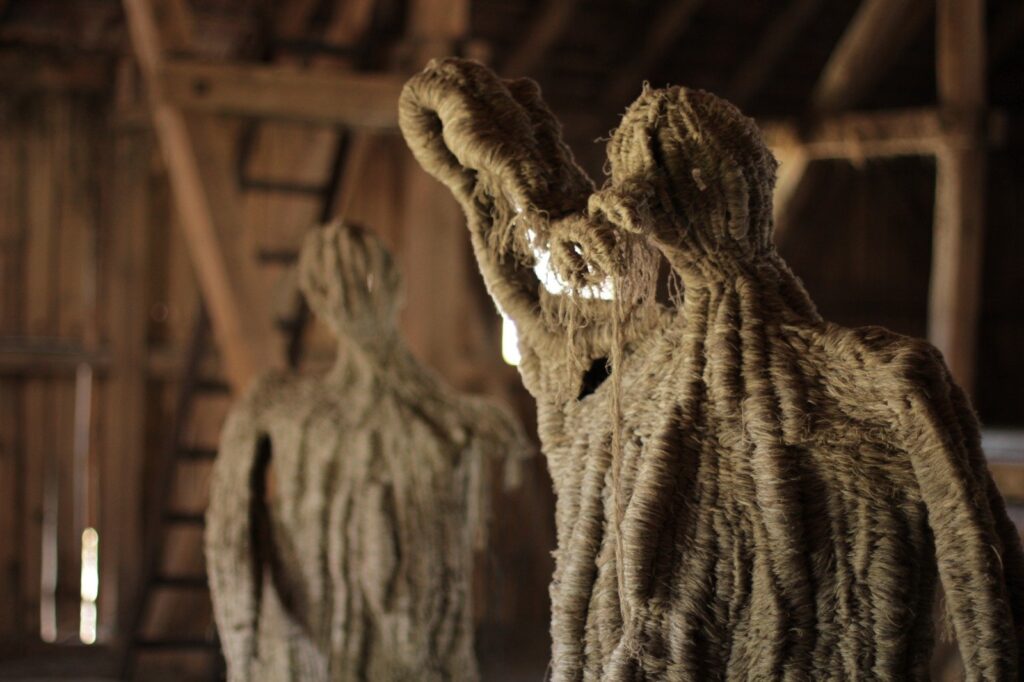 Soojin Kang at Ben Hunter, London. 2023
Soojin Kang weaves by hand. Tying, knotting and interweaving her fibres with tactile intimacy; she caresses them into being. Remaining in a state of performative activation, the quality of her recent sculptural works oscillate between abstract and figurative: they hover between states or borders, an understated place of effervescent in-betweenness. Her work is innately intertwined with the choreography of movement and its relationship with a multitude of unfolding contexts and narratives about her: the performativity of life passing through time.
Her mother was a knitter by profession, working from their home in Chuncheon, South Korea. Emotion, love and care are all imbued into the clothes that her mother would make for her. Unlike the throwaway economies of the design and fashion worlds that Kang found herself in as a young artist, her intimate relationship to garments made for her by her mother is one of sustained nurture, carefully repairing the unfurling stiches of a pullover or darning holes that appear through the enduring attachment to worn-through elbows. Connected stitches continue to be the metronome of Kang's daily life; she describes this practice as a highly emotional process. Line by line, her woven works accumulate memories of the days spent working on them, tracing the passing of time and its daily rhythms: the music she was listening to; the conversation with her studio assistant; the smells filling the air from the kitchen. She can read the threaded lines like a diary; a story that only she can decode, yet one that is palpably visible in the surface of her sculptures, quietly pulsating. This passing time is narrated through the differentiated lines of material: an anxious tightened loop, a momentary stray of concentration in a mismatched knot, a tiring, aching hand in a loosened stitch and a slowing rhythm, or the energised concentration and quickened pace in the rows of fabric that hasten to their finish line. Withholding from using the rhetoric of the art world, Kang translates her everyday life into the surface of her sculptures with raw, emotive intimacy.
Though her work can be read through this performative lens, her practice is also one of relentless, concentrated labour. The period between production is dedicated to painstakingly spinning the raw fibres for weeks at a time. Her production process is then one of actions repeated thousands of times, a choreography of endless reiteration. Yet through these rhythmic repetitions, Kang creates a meditative space through which her ideas flow, a specific mental zone she terms 'Focus'. Writing on the metaphorical use of textiles to present traditional wisdoms, Beverley Gordon writes in her book, Textiles: The Whole Story, 'Our left brain interprets the creative tasks and our right brain translates it through our hands'. It is a common comment amongst weavers that absorbing oneself into the repetitive rhythms of production induces a sense of holistic, cerebral calm. Rather than in the sketchbook, it is in this state of 'Focus', that Kang's ideas come into being: 'within every single line, I'm developing ideas, I'm creating more concepts'. Instead of sketching her sculptures, they form in their moment of making: a clarity in the mind's eye.
In 1983, Lucy Lippard wrote about the then transformative idea of 'overlay', where she recognised artistic practice as both an innately interdisciplinary practice (that draws together both conceptual and visual spheres) and a continuum. While Lippard sought to bridge the gap between prehistoric and contemporary art, the same complex entanglements of arrhythmic temporalities can be true of traditional art forms and those across fields of practice. Influenced by her formal training at Central St Martins, first in Fashion and later in Textiles, Kang felt a resistance to craft, often disregarded as a lower art form within Western contemporary art discourse. It wasn't until later, when she recognised the central importance of craftmanship within Korean art history, that she felt confident to fully embrace it in her own practice. The connections, rhythms and stories that play out in Kang's work are imbued not only by her formal training in design and fashion (both with a multitude of complex historical reference points, brought together through a very specific and narrow Western canon), and personal experiences of her mother's textile work, but also draw on a lineage of weaving and craft through both Western and Korean cultural histories, finding a productive personal space in the overlap between these realms.
Lippard's concept of overlay also speaks to the way that Kang builds her fibres; her works overlay human conception of time (historical, social and cultural, as well as–importantly in Kang's practice–overlaid with the intimate, personal and familial), with the embedded circadian rhythms, temporal shifts and changes of organic materials and the natural world. Within a single sculpture, through the materials she chooses and the way she works them, she intersperses different textures of time and positions of being in a singular surface. Kang describes, 'Silk is for me, what latex is for Eva Hesse'. She spent many years experimenting through different formats, forms and materials, finally discovering both weaving and silk as language through which she could nurture her artistic voice. Working in a painterly process, Kang builds up colour and texture in constant dialogue with the lines set down before, building a palette with her yarns and layering a multitude of differing shades. The raw silk is exceptionally fragile and hard to control; to work at scale she interweaves its delicate threads with other raw materials. Lines of linens, jutes and hemps, each absorbing their dyes in differentiating tones and depths, bring a cacophony of subtle variations of colour and texture to the work. Looking closely, the works are alive with material dialogues and the hand of the artist at work. Kang is drawn to the communality imbued–and often inherent–in weaving throughout both historical and contemporary practices: a craft often operating within–and for–the collective endeavour. Inspired by the history of weaving, particularly in Korea where it was a core social activity for women, and weaving as form of social activism, collective healing and community therapy, Kang's work situates itself within a wider practice that holds many voices. She gathers the multitudes of these fragile fibres and the narratives they hold into a singular interlocking wholeness.
Kang's work in silk has consistently evoked the bodily, albeit in abstracted and poetic ways, implicating one's body and that of the artist within a collective space held together through sculptural forms. She came to weaving and motherhood at the same moment; and they are intrinsically entangled in her work. Some works take on visible human form, others allow the silk to seep back into its cocoon formation, evoking its relationship between two industrious beings: silkworm and artist. Human and non-human, both weave new worlds and new lives from a material that is at once fragile, and yet becomes, in Kang's words, 'as strong as stone'.
As Kang builds these varying vascularities, new instabilities are summoned into form; the silk fibres standing in for the ephemerality of life and time. Sōtō Zen monk, Shunryu Suzuki, professed that '(n)othing we see or hear is perfect. But right there in the imperfection is perfect reality.' All objects have imperfections and their imperfections hold their stories and their essence. For Kang, the imperfections in her works are both naturally occurring and sometimes deliberate. Her sculptures hold a kinship with the irregular vessels of wabi sabi Japanese potters; the intricately embroidered shawls sewn by Punjabi women who stitch in lines of their family's history to counter the otherwise perfect symmetry; Navajo weavers who position mismatched beads or create paths across geometric patterns to allow the weaver's spirit to escape the textile; or the irregularities built into Persian rugs to avoid blaspheming, following the belief that only Allah can create perfection. Shared between Kang and all these traditions is an eye that sees beauty in the imperfect, impermanent and incomplete.
Since becoming a mother, Kang has embraced the vulnerabilities that now seep into her work in more palpable ways. The materials of her mother's profession litter Kang's childhood memories, playing amongst rooms stacked with hundreds of sleeves, hundreds of pockets; piles of puzzle pieces waiting in a production line to be gathered together into jumpers and cardigans. Now based in a small town in Bavaria and living in a farmhouse, Kang's two young children play amongst her woven constructions; a journey to find her material practice has come full circle. Slowly nurturing new beings into life, knitting together chromosomes or fibres, for Kang her sculptural practice cannot be decoupled from her role as a parent. Disobedient, raw, undyed silk is coaxed into cocoons, their facades evoke the bodily, whilst inside they unravel, exposing their fragilities, their faults and their imperfections: qualities that are innately human.